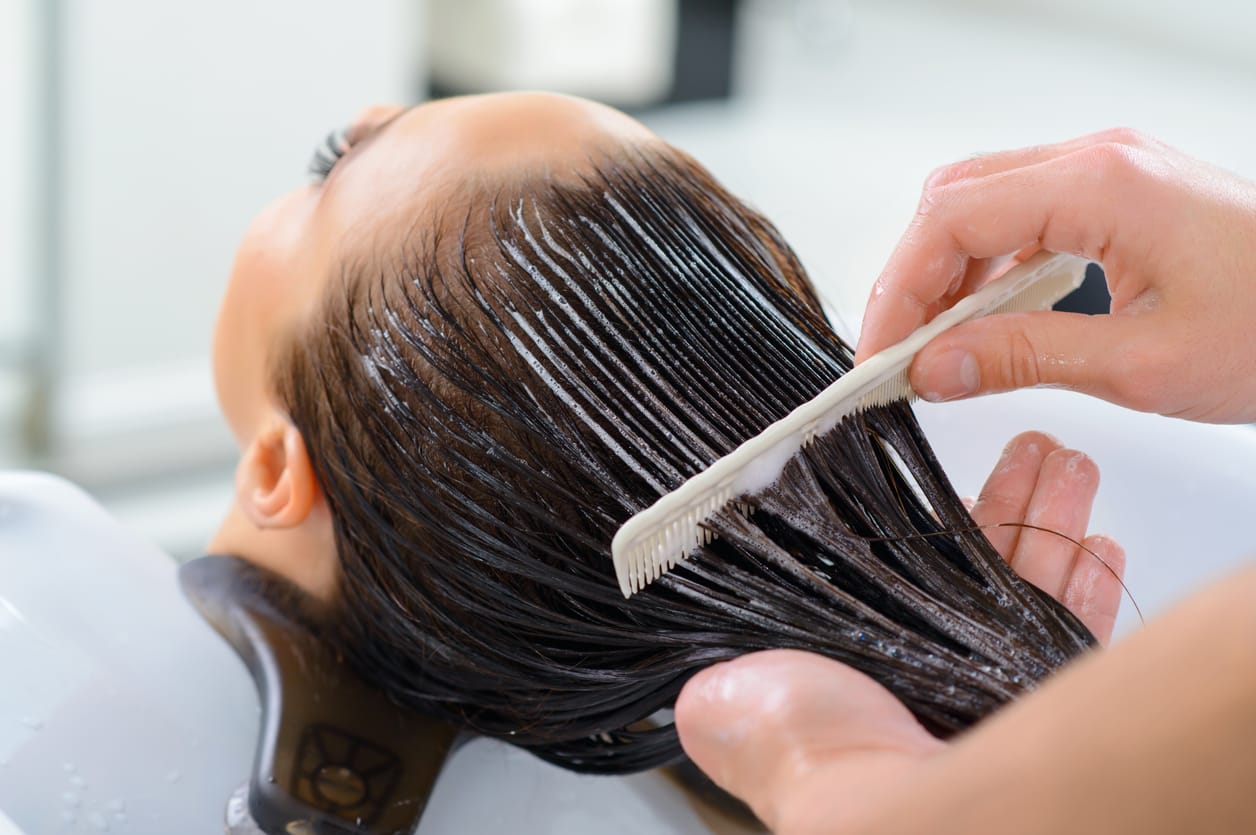 What Is Kerastase Hair Treatment?
Whether you're putting too much heat on your hair or have had one too many bleaching appointments, there are some types of hair damage that can't be treated with at-home shampooing or DIY hair masks. To reverse more serious hair damage or to keep your hair healthy, we recommend Kerastase treatments. These products are customizable to treat the specific needs of your hair, helping it regain its strength, shine, color, and volume. Below, we'll review what a Kerastase hair treatment is, when it's needed, and where to get one.
An Overview of Kerastase Hair Treatments
Kerastase was founded in 1964 by a team of hairdressers and expert scientists. Together, they created a product line that is packed full of nourishing ingredients that penetrate deep into hair's roots to reverse common hair damage, including:
Bleaching
Breakage
Heat damage
Over-brushing
Over-shampooing
Kerastase treatments are designed to address your unique hair needs and offer a number of different products to choose from, such as:
Aura Botanica: Also called the hydrating range, this collection is made from coconut and argan oil to hydrate even the unruliest of hair.
Blonde Absolu: Specifically made for blonde hair, this treatment nourishes hair and neutralizes any unwanted bronze undertones.
Chronologiste: Designed for aging hair, the mature hair selection helps keep hair looking shiny, bouncy, and fragrant.
Densifique: Made for fine and thinning hair, the Densifique range promotes growth, volume, and density.
Discipline: For unruly or frizzy hair, the Discipline range targets flyaways, frizz, and other troublesome locks.
Elixir Ultime: To strengthen hair, the Elixir Ultime contains a number of botanical oils to strengthen, hydrate, and condition dry or damaged hair.
Fusio Scrub: Combat all of your scalp problems in one energizing and soothing scrub designed for exfoliating and deep cleansing to infuse new life into tired strands.
Genesis: This range is designed to treat both breakage and hair fall, ensuring hair is protected and hydrated.
Initialiste: This scalp treatment is designed to nourish, brighten, and smooth all types of hair from the roots to the tips.
Nutritive: For long-lasting nourishment and hydrating, Nutritive is suited for all hair types that are sensitive, damaged, or dy.
Reflection: To maintain your salon color, the Reflection range keeps your color locked in and boosts hair vibrancy.
Resistance: Resistance helps regrow damaged hair by rebuilding hair's internal structure from the inside out.
Soleil: This product is perfect for anyone spending long days in the sand or by the pool to protect against UV rays, chlorine, and saltwater.
Specifique: Designed to promote a healthy scalp, Specifique addresses common scalp problems such as dandruff, excessive oil, itchiness, or hair loss.
Each of these treatments can be combined with others, ensuring you effectively treat all of your unique hair struggles.
Who Is Kerastase For?
Kerastase treatments are designed for all types of hair—long, short, curly, straight, dry, oily, etc.—for both men and women. The brand is loved by many worldwide because it's packed full of nutrients and oils that go above and beyond to nourish, hydrate, and strengthen hair.
Where to Get Kerastase Hair Treatments
You can purchase Kerastase treatments from most professional salons. Most hairdressers will help you find the right product range to treat your specific hair struggles, or you can go online to find recommended treatments.
Ready for Healthier Hair?
No matter what type of issues you're having with your hair—excessive oil, heat damage, weak or brittle hair, or bleach damage—Kerastase treatments provide you with healthier, stronger hair.
Need help finding the right products? Let us help! We'll help you pick the right Kerastase products that will provide you with gorgeous-looking hair. Stop by the salon today and consult with our professional stylists to find the perfect Kerastase products for you.